Metal Gear News
RISING 4/30: Do you remember what day it is? Make it right!
Posted on April 26, 2012 12:48 am
---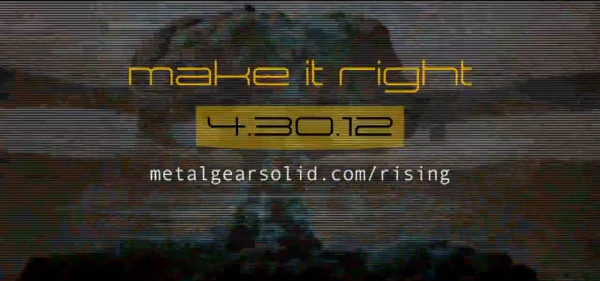 So Konami released a video for Metal Gear Rising: Revengeance today titled "Make it right." Well, that's quite fitting since that seems to be exactly what lots of Metal Gear fans are saying about Revengeance. Not me, of course, but many. What is the video? A distorted series of clips involving guys, blood, syringes and... wait, is that a remix of Nine Inch Nails' 10 Ghosts II? It totally is.


http://www.youtube.com/v/paUIfhjSUx0

This is just an announcement of an announcement though. April 30th. Mark it on your calendars and make sure that you bug the shit out of every Metal Gear fan you know on April 29th by asking them "[Whatever their name is], do you remember what day it is tomorrow?" Because they really need to know. Hell, I think Trent Reznor should know since that's, you know, kind of his music in there. Fist fuck. What?

You'll never be the same, Metal Gear.

SOURCE: Konami, FRANKASTER
---
---

The Snake Soup
Fortified with Metal Gear goodness since 2003!
This website believes in freedom of speech; protecting speech one might not particularly like. While the site's content and images are somewhat harmless, there is some language parents and others might not approve of. If that's so, please go to another site. Most of our allies don't use such language. Another thing; a vast majority of Metal Gear games are either unrated, or rated "M" by the ESRB, for mainly violence, blood, and mild language. The staff of The 'Soup, or any affiliated parties are not responsible for your viewing actions. If you can't stand such content, get out and go to another site. Thank you for respecting our rights and beliefs as much as we respect yours.

Content on forums, though regulated, may contain highly offensive material. The opinions of our forum members do not particularly represent the views of Ravi Singh, The Snake Soup, it's staff, or any affiliated parties in general. Please read our forum rules before reading or posting on our forums.

This site looks grand at a resolution of 1280 x 1024 pixels. It still looks pretty damn good in 1024 x 768. It has been designed for Firefox 3.5, Internet Explorer 8, and Opera 9.