Metal Gear News
E3: MGS HD cutscenes have an aspect ratio identity crisis
Posted on June 07, 2011 03:29 pm
---
When we got more details about the upcoming re-releases of Metal Gear Solid 2: Sons of Liberty and Metal Gear Solid 3: Snake Eater, I raised some concerns over the HUD looking like a stretched version of the original. Some people discredited me as nitpicking over "a little box," but as we saw in the case of Peace Walker HD, Kojima Productions seems to acknowledge that redrawn 2D art and fonts are important to HD re-releases. And they are.

The good news is that my hope that the screenshot posted on the official Kojima Productions E3 2011 site was a mock-up or a shot of an incomplete product might have hit reality. New screenshots were released today comparing the PlayStation 2 version of Sons of Liberty and Snake Eater compared to the HD re-release. Sure, they don't show that the problem was fixed—but the problem itself is not even visible!






I highly doubt they are going to remove the HUD; this probably means that they realize that they can't just put the old HUD and stretch in order to claim it to be "HD" and "widescreen" since that's just bullshit. The omission is no confirmation, but it does at least seem like they do not want to show off the HUD in the HD versions just yet (interestingly enough, the HUD is not present in the PS2 screenshots for Snake Eater that were provided). However, other screenshots released today brought something else to my attention: the aspect ratio of cutscenes. As you can tell by the screenshots above, the HD re-releases will have real widescreen rendering. What I mean is that they are not simply stretching the screen horizontally--they are actually including more of the screen for viewing. That's good... for gameplay. For cutscenes though...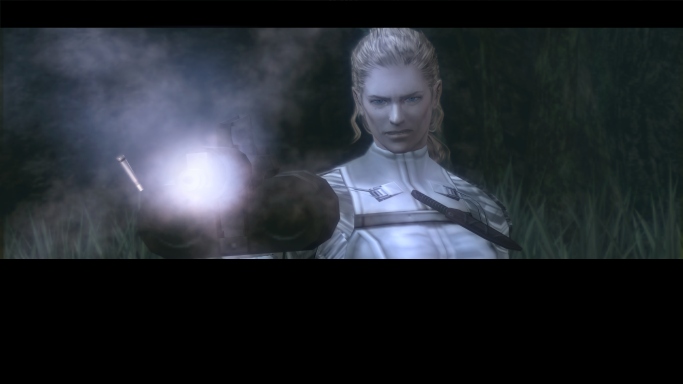 ...it looks fucking odd. In the original PlayStation 2 versions of Sons of Liberty and Snake Eater, cutscenes were shown in a letterbox format. This was to give the cutscenes a more "cinema" look as films generally are shown in widescreen format, but at the time of the PS2, televisions screens were generally of the 4:3 aspect ratio. I was thinking that when they re-released them in HD, they would simply crop most of the letterboxing so that the cutscene would fill the entire screen, like so: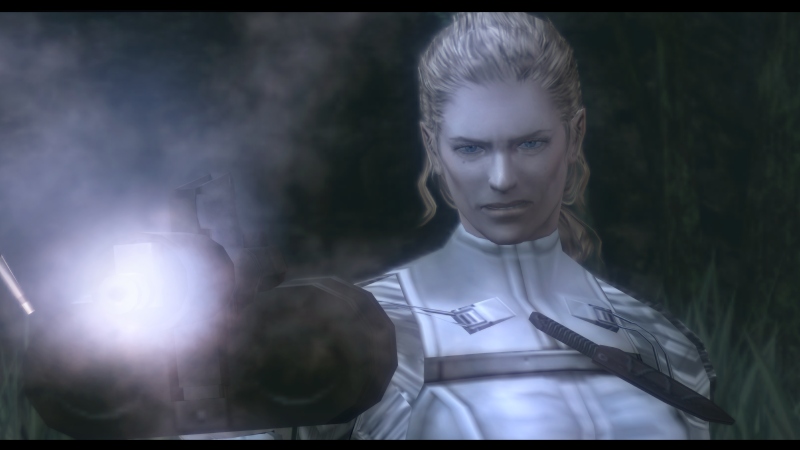 Instead, it seems like we will still have letterboxing while the shots are expanded to show more than in the original. This is horrible because it shows us parts of the cutscenes we were not meant to see in a shot. I don't even think it'll look like super anamorphic 2:35:1 because it seems like it only utilizes 50% of screen real estate, but even pretending it does, cutscenes, unlike gameplay, are scripted linear events. If the director wanted us to see something, we would have seen it in the original. This is the equivalent of a title that was shot in 4:3 but matted for it's intended widescreen release... being released in 4:3, showing us bits of things that were not supposed to be shown in the original.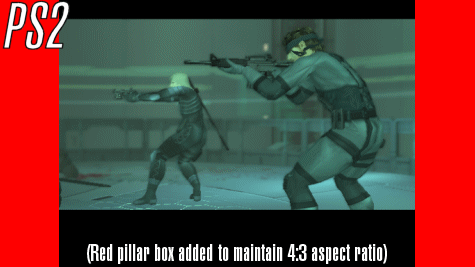 Granted, we probably won't see something like someone wearing jeans when they're supposed to be nude, and it's possible that they will fix any oddities that are shown, but let's face it, there should only be little (if any) letterboxing involved. After all, all Metal Gear titles that were released in a widescreen format to-date did not use letterboxing as it was unnecessary. Even fans on YouTube are able to create actual 720p footage of cutscenes from HD sources without fucking up the aspect ratio.


http://www.youtube.com/v/DHN0Sf-AfPs

So what the fuck is going on here, Bluepoint? Kojima Productions?

UPDATE: gouda from our forums has taken the time to download all of the screenshots Konami provided and upload them as a gallery. See for yourself.

SOURCE: Konami, gouda
---
---