« Back home
HOW MGS4 WILL BE AWESOME: April Fools 2008
By Ravi Singh, Posted on April 1, 2008; Updated April 19, 2008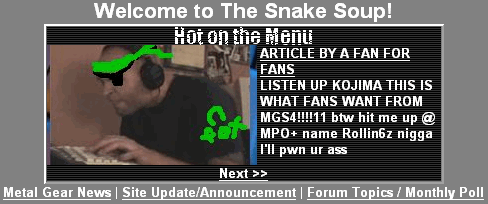 The following "article" was posted as an April Fools Joke. The joke itself was not intended to fool anybody, but rather, be a parody of what seems to be the new wave of Metal Gear fans (or rather, Metal Gear Solid fans) that I've come across ever since the release of Metal Gear Online for Metal Gear Solid 3: Subsistence. Not to say all of MGO's fans are like this, or that all Metal Gear fans before MGO are geniuses. In fact, some of them are parodied below as well. Of course, nearly everything is sarcastic as fuck and not to be taken seriously unless you are an idiot. Enjoy.
---
1) Reveal the other five Snakes as Los Cinco Serpientos!
Raiden is totally gay, so the ONLY way to make up for the faggotry that was MGS2 is to have as many Snakes as fucking possible. 5 Snakes. They can serve mutliple purposes like stand in certain areas and give hints, or, collect 100 dog tags and talk to one of them to get to a special stage so you can try to get all the Plastic Explosives you need to destroy final weapon Metal Gear!
2) Bring back Big Boss, and add a Next Generation Clone.
Fuck yeah Big boss is tight,
4) Retcon the 2d nes games
Nobody played the original games. They were gay and the graphics look liek they were on the Wii!!!!!!!!1111111111 BTW Wii is totally gay and girls think so too! its NGC 2.0 gb2 previous gen faggots.
3) More ninjas!
We fucking LOVE ninjas! In fact, there should be a part of the game where Solid Snake mkII enters the subway and out of nowhere–NINJAS! Around 9,001 of them, to be exact! Snake will have to kill (or stun LOL) each and every one of them before he faces The Sorrow, who will ressurect every single person Solid Snake ahs killed since Shadow Moses as a Cyborg Ninja (including the ninjas Snake already has fought) for another fight because Ninjas are fucking cool, amirite?
3) Co-op mode
Co-op is so fun in Halo. They should totally put it in the next Metal Gear Solid game so me and my bros can frag sum jihad fags!
4) No codec/radio/etc
Nobody likes it. Also it will cut costs. To save, they should just have it be the START button or soemthing. Also, as little cutscenes as possible. They should be exciting and feature heavy metal like Linkin Park! BTE I made a cool video 4 you all it's a bunch of cool scenes with Linkin Park's "A Place For My Head" fuck the new CD it's emo! search me on YouTube
5) No Otacon.
Otacon is a dork and dorks are gay. Nevermind that anybody who would seriously write this awesome list of demands would be a huge dork… and while Otacon is the epitome of nerdy, he actually gets high-paying jobs doing what he loves (and he lost his virginity at a young age) but he's a faggot nonetheless who pees in his pants NOBODY DOES THAT GAY SHIT GAY GAY AGYA AGAYAGFAGASADHADS
6) Control metal gear
There should be a way (also in ONLINE MODE) where Snake gets to hop into Metal Gear units and fuck shit up! There should be two seats so that one player controls the Metal gear and the other fires NUKES LOL!
7) Hotter chciks
Kojima is so gay because he put all kinds of homo characters like Vamp and Raiden but rarely are there hot chicks in revealing outfits. If Kojima was straight he would have this game be all girls and Solid Snake and it would be hot. Well I guess logically this argument is like saying George Lucas is multi-diverse because he puts all kinds of weird ass aliens in his Star Wars movies but… fuck you logic is gay!
8) The ability to beat up Raiden, Rose, and Mei Ling
I hate gays, bitches, and immigrants!
9) Weed
LOL wouldn't it be cool is Snake had to smoke weed instead of cigarettes? LOL it would be so cool I like weed ITS SO COOL THAT i sometimes set my cellphone to ring at 4:20 so in class im like "420 niggas" and everyone LOLs I'm so cool.
10) Kill Master Chief
XBOX IS SO GAY SO IS WII I FUCKING HATE THEM SO MUCH THE LAST BOSS SHOULD BE MASTER CHIEF BUTTFUCKING MARIO AND SNAKE COMES IN AND CURBSTOMPS THEM BECAUSE THEYRE GAY FUCK WII FUCK XBOX 360 GET ON DAT PS3 LIFE
There are 8 comments in our discussion thread.
« Back home