Metal Gear News
HD Collection for Vita includes MG/MG2 and altered HUD
Posted on April 19, 2012 05:17 pm
---
So everyone knows that Metal Gear Solid HD Collection is coming to PlayStation Vita so we can buy the games again, again (again!). We knew about the Vita controls in the game (more on that later) and no Metal Gear Solid: Piss Water. There is, however, some good news: Metal Gear and Metal Gear 2: Solid Snake will still be included in the Vita version of HD Collection!

One thing to note is the altered HUD display.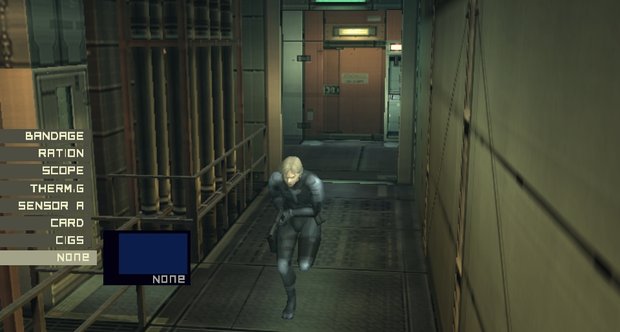 So does this mean they worked on the Vita version "from scratch" like they did with Metal Gear Solid 3D? If they were do this much alteration to the game then perhaps they'll take care of the Grey Screen of Death.

The latest release date known is "this summer."

SOURCE: Shack News
---
---

The Snake Soup
Fortified with Metal Gear goodness since 2003!
This website believes in freedom of speech; protecting speech one might not particularly like. While the site's content and images are somewhat harmless, there is some language parents and others might not approve of. If that's so, please go to another site. Most of our allies don't use such language. Another thing; a vast majority of Metal Gear games are either unrated, or rated "M" by the ESRB, for mainly violence, blood, and mild language. The staff of The 'Soup, or any affiliated parties are not responsible for your viewing actions. If you can't stand such content, get out and go to another site. Thank you for respecting our rights and beliefs as much as we respect yours.

Content on forums, though regulated, may contain highly offensive material. The opinions of our forum members do not particularly represent the views of Ravi Singh, The Snake Soup, it's staff, or any affiliated parties in general. Please read our forum rules before reading or posting on our forums.

This site looks grand at a resolution of 1280 x 1024 pixels. It still looks pretty damn good in 1024 x 768. It has been designed for Firefox 3.5, Internet Explorer 8, and Opera 9.