Metal Gear News
Pre-E3: Hideo Kojima decided not to go to E3
Posted on May 30, 2011 07:47 am
---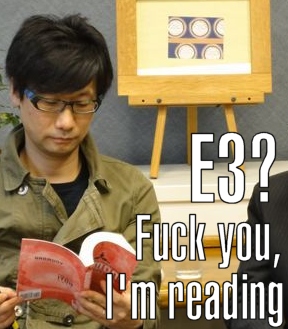 When Hideo Kojima answered some questions on the HIDERADIO podcast a few days ago, he simply used "YES" and "NO" answers. So when someone asked if he will be at the Microsoft press conference at E3, Kojima simply answered "NO." At the time I wondered if Kojima making an appearance at said press conference would even hold any significance considering his limited role in Metal Gear Solid: Rising, but based on a translated Tweet from Kojima that's besides the point--he's not even going to be at E3 this year at all:

"Since I decided not to go to E3, I made an interview video hastily. Asked Mr. Mark MacDonald (former editor at EGM/1up.com) to be an interviewer."

Kind of a strange way of telling everyone you're not going. It's like if he decided to Tweet one day out of nowhere, "Since I'm not going to work for Konami anymore, I applied at Capcom!" Still, like the news about him not being at Microsoft's press conference, what does this exactly mean? We know Rising barely involves Kojima. Metal Gear Solid: Snake Eater for the 3DS also seems to barely involve Kojima. Well then, what the fuck has Kojima been working on and why would his presence at E3 even be a concern?

While this is The Fucking Snake Soup, I still have some standards and as a result didn't try to make this a tabloid over some of Kojima's emo tweets made recently. However I do think it's relevant when we think about what Kojima has been working on since the only projects from Kojima Productions that we know of has little to no involvement from the man himself. There is that devil/ogre/cocaine/taboo/whatever-the-fuck project that might or might not be another Metal Gear title. I wonder what happened to that?

"I cannot bear, and cannot be positive. [...] What I prepared minutely spending a year became meaningless."

While the person translating Kojima's tweets has a history of awkwardness, I think it's safe to say that something Kojima has worked on for a year got fucked. I think it was that the devil project Kojima kept on talking about was cancelled by Konami and was probably ready to be revealed at E3 this year. This is of course speculation on my part. Either way, Kojima is back to his cheery "I'm going to post pictures of my food on Twitter" self so you can stop writing your script for that "It Gets Better" video you were going to send him.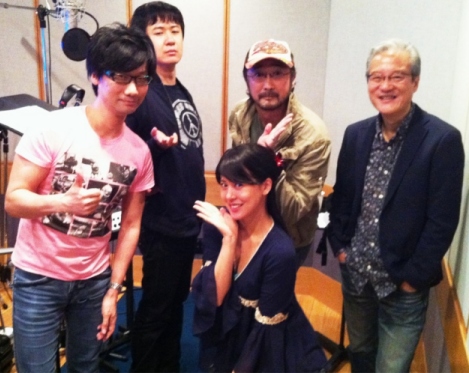 Right now he's involved with a voice recording session with some familiar faces for Japanese fans of Metal Gear titles as you can see above. Also, if you remember, late last month he and some of Kojima Productions went out for training. Not entirely sure why. Maybe we'll find out. You see, while Kojima decided not to be at E3, he did not say anything about Konami's pre E3 event this Thursday. Plus, if he had himself be interviewed, we will probably actually see this interview soon and maybe we'll find out what the fuck is going on. Or maybe he'll be answering more dumb questions like if Metal Gear Solid: Rising will be released on March 3, 2012.

UPDATE: All of the voice actors in the picture Kojima posted worked on Peace Walker, playing the roles of Snake, Miller, Strangelove and Galvez. This could mean another Peace Walker radio drama is in the works, new audio is being recorded for a re-release possibly for the PlayStation 3, or something completely new is being worked on.

SOURCE: @HIDEO_KOJIMA_EN [1] [2] [3] [4]
---
---