Metal Gear News
TGS 07: A lot of shit, Major Spoiler!
Posted on September 19, 2007 06:48 am
---
Oh shit guys! It's the Tokyo Game Show already! Fuck, and I was about to go to sleep!

If that wasn't enough, as Payton mentioned, there is a trailer that reveals "TOO MUCH!" How much is too much? I dunno! The trailer has yet to be seen outside of the land of bukkake and fake beef.

Somebody decided that we're still in 1998 where videotaping a trailer and uploading it would be "TOO MUCH" so they instead took photographs of the script. No, not THE script, but rather, the script for the "TOO MUCH" trailer, which can be seen at the source link. I have decided to illustrate the script as best as I can. Be warned though, Major Spoiler gets a semi hard-on: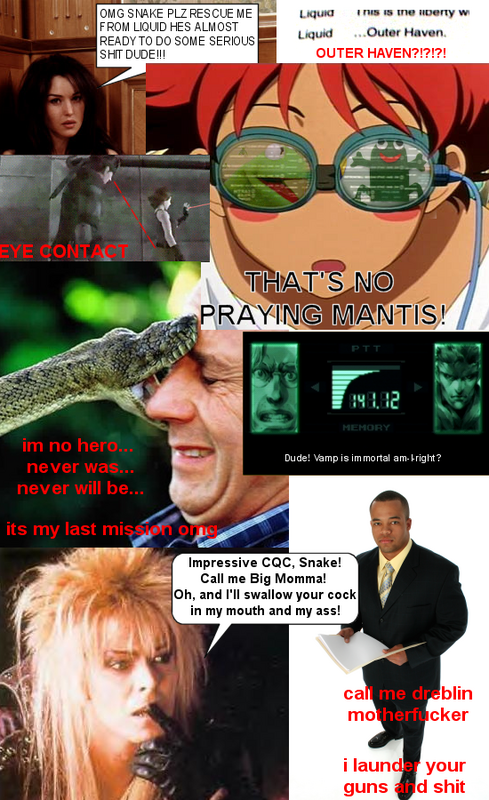 Famistu, as per usual, has all the details that Kojima has to reveal anyways. Too bad I don't know Japanese. Here's some interesting things though:

A NEW CHARACTER APPEARS! Drebin, aka Sisqo.
A NEW CHARACTER APPEARS! Sunny the girl who might have hairy armpits and a shitty fashion sense.
A NEW CHARACTER APPEARS! Wait, what the fuck, is this a monkey: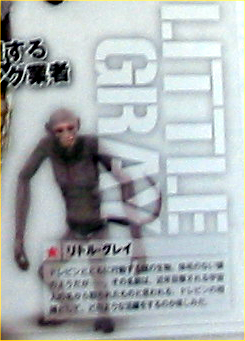 A NEW CHARACTER APPEARS! Haven Trooper. Haven? Wait, does Outer Haven really exist? Fuck.
That mystery guy isn't Raiden. It's Johnny Sasaki!
OH NOS ITS REX AND RAY!
There is a health bar.


A radar.
And "SLEEP GAS" that might make people feel asleep: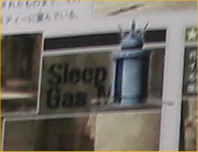 As for the demo, yes, Kojima did indeed give the Japanese the demo first, which he already did with Metal Gear Online god damn it! To top it all off, he had around fifty fucking kiosks put into place. What the fuck man.

Will we get the demo on the PlayStation Network? NO! We will get that trailer though... on Thursday at 3:00 PM PST. I'll upload it for you people who don't own a PlayStation 3 (aka: all of you).

Other shit you probably don't give a fuck about:

Metal Gear Solid 4: Guns of the Patriots will indeed have it's online mode, called the Online Starter Pack. Hooray for spending more money!
Metal Gear Solid: Portable Ops + is already out in Japan. It will be out in every region. Hooray for spending more money!
Metal Gear Solid Mobile will be released worldwide. Hooray for spending more money!
Metal Gear Solid Mobile will be preinstalled on the Sony Ericsson W535. Hooray for spending more money!
Metal Gear Solid 2: Bande Dessinée (or Digital Graphic Novel) will be released WITH the first digital graphic novel--both of which will have full voiceovers. Hooray for spending more money!

SOURCE: MGS:TUS
---
---