Metal Gear News
GC 2007: MGS4 Trailer, wimmenz, and MPO+ site UPDATE: HD
Posted on August 23, 2007 08:33 am
---
The Kojima Productions 2007 Event Page has been updated for some of the new shit we've reported on at the Leipzig Games Convention.

What we get:
The new trailer for Metal Gear Solid 4: Guns of the Patriots (better quality than anything we've seen before) in full English so you think you know what the fuck is going on, but you really don't.
Things to listen for:
"ITS TEH BEAST!"
"LOL W/ ME PLZ!"
"RAGE RAGE RAGE RAGE"
"LOL THIS IS FUNNEH"
"War transforms us, Snake. Into beasts [in disguise am-I-right?]"

New screenshots for Metal Gear Solid 4: Guns of the Patriots, revealing LOLCTOPUS, emoXwolf, ALLCAPSMANTIS, and, um, Raging Raven.

Character renders of these characters who form the BEAUTY & TEH BEAST UNIT/CORPS who have now taken the place of Raiden (from MGS2) as "THE BEST CHARACTER(S) EVAAAR!!!"

Also, due to the disappointing lack of porn relating to these new characters (give us time, Konami! God damn), pictures of how these wimmenz probably look like under the metal-suits were released, which means that these characters have a face. In fact, the site pretty much called the robotic forms "BEASTS" (as in furries) and the in-real-life human forms "BEAUTY" (as in wimmenz).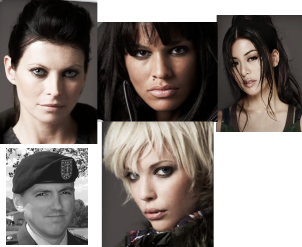 Does this mean that one of these wimmenz (whoever is emoXwolf) will be on all fours the entire time, howling? It almost makes ME want to pick up a pencil, and nobody wants that, trust me.

EDIT: Out of fucking nowhere, a trailer for the wimmenz appears! Thanks to Pho3nix for finding it.

Oh, and there's also screenshots for Metal Gear Online and a website for Metal Gear Solid: Portable Ops Plus... but who the fuck cares?

SOURCE: Kojima Productions 2007 Event Site, Official Metal Gear Solid: Portable Ops Plus Site

PS: I've gotten an angry e-mail from a Candy Maddox concerning how I report the news now. Apparently, I'm homphobic, racist, sexist, and just a very bad man. I'm putting this here because Candy is now the official spokesperson for the Metal Gear community and life in general.

EDIT: Trailer now available on YouTube.

EDIT: 720p trailer is now available on the PlayStation Network. I have uploaded it to MegaUpload for all to enjoy.

SOURCE: MegaUpload
---
---